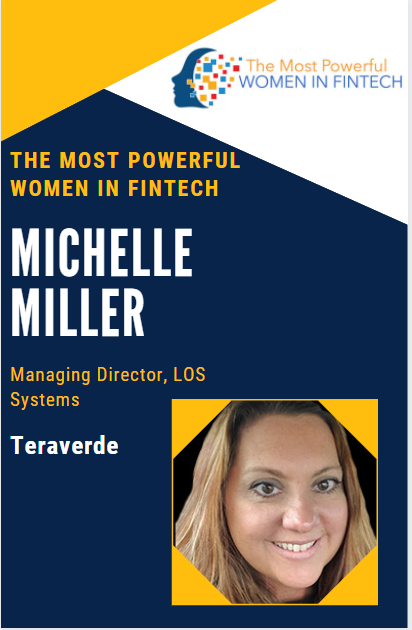 July 2, 2021: Michelle Miller was awarded the Most Powerful Women in Fintech Award.
Ms. Miller has worked at Capital Markets Cooperative prior to joining Teraverde
seven years ago. She has worked on over 50 LOS business process improvement
engagements, helping lenders increase the productivity and efficiency of the
mortgage banking processes.

Michelle has developed a series of products that help lenders improve efficiency.
She is instrumental in evolving advanced solutions to supercharge ICE Mortgage's
Encompass LOS.

She has collaborated in developing SpeedPath which provides task, service level
and data change management for the Encompass LOS. She has developed multiple
productivity improvement products for Encompass and related systems.
Michelle envisions FinTech substantially reducing the cost of origination by
automating as many mortgage lending processes as possible. Her experience in the
capital markets segment of the business, as well as mortgage origination and
underwriting provides her with broad domain knowledge to improve the mortgage
banking business process for both lenders and customers.

Ms. Miller has a unique ability to help users of FinTech processes to understand
and adopt new products and technologies. Her deep domain knowledge of lending,
coupled with her FinTech experience helps he help lenders adapt their processes
and tech stack to accomplish their objectives.

It is gratifying to receive feedback from customers regarding Michelle's innovative
knowledge of 'how to get things done' in a given tech stack. She has a philosophy of
listening the customer, analyzing how to best accomplish the customer's
requirements. Michelle then has her team develop the solution quickly.
Importantly, she uses her domain and technical knowledge to help the customer
quickly adopt the new solution and attain their goals. 
For the full article go to: The Progress in Lending article – 2021 Most Powerful Women In Fintech Award Winners Are..