The Hidden Treasures that Leads to Superior Lender Profitability 
Coheus helps lenders easily navigate through your oceans of mortgage data. It maps out opportunities to increase profitability and efficiency.
Find the Hidden Treasures! 
Click below to find the hidden treasures in a mortgage lenders operation.
This Live example will show you how quickly you can find bottlenecks, data integrity issues, and revenue leakage.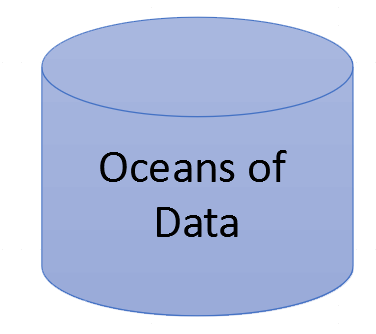 Coheus helps lenders access the hidden treasures below.
Coheus helps lenders access the hidden treasures below.

Lenders instantly have the guidance to find more revenue, profit and efficiency .
Launch the LIVE Calculator to Find Your Return on Investment! 
Coheus Platinum
Annual Contract
40+ pre-built dashboards of your Mortgage Data

4 Smart Applications

Coheus Configurator

48 hour installation

Executive Playbook – Over 20 plays for immediate ROI

*Price reflects Essential package
Coheus OS
Annual Contract
50+ pre-built dashboards of your Mortgage Data

4 Smart Applications

SpeedPath Service level Management tool

Coheus Configurator

48 hour installation

Executive Playbook- Over 20 plays for immediate ROI

*Price reflects Essential package
Coheus Gold
Annual Contract
40+ interactive pre-built dashboards of your Mortgage and Accounting data.

3 Smart Applications

Coheus Configurator

48 hour installation

Executive Playbook- Over 10 plays for immediate ROI

*Price reflects Essential package
Activate Today
Mortgage Business Intelligence that used to take months to build..
is simplified, turbocharged and is installed ready to go in under 48 hours  
Made by Lenders For Lender  
Coheus maps the path to more revenue, profit and efficiency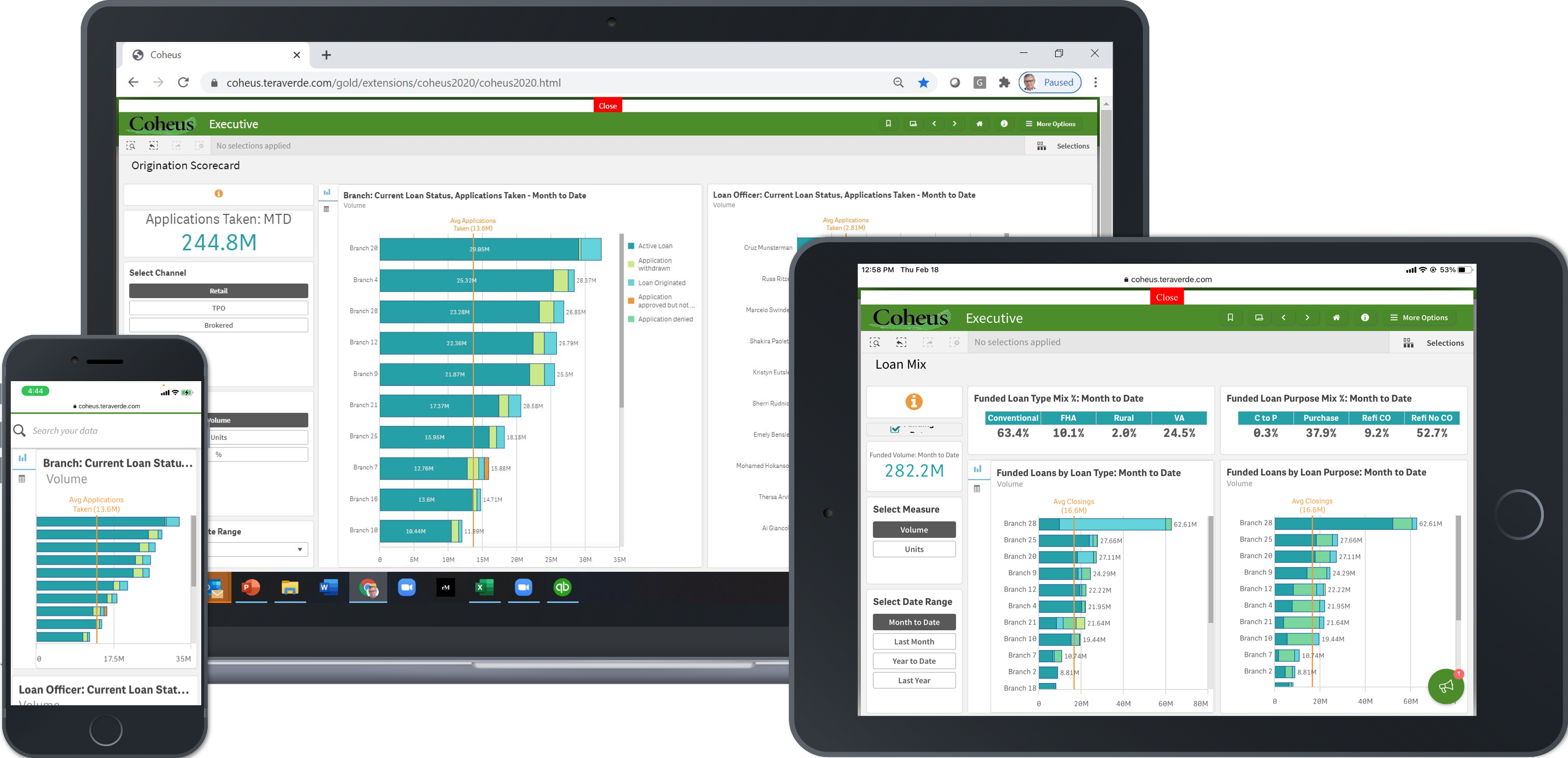 Follow the 4 Step Process and Access the 'Out of the Box'
Mortgage Business and Data Intelligence in 48 hours
Visit Store
The Coheus store has options for Lenders of all sizes. You can select from 4 applications or the Coheus packages.
Enter Encompass Client ID & Card Information
This is a critical step to activate your account. Your information is held privately and only accessed for billing and integration purposes. Teraverde is SOC 2 certified.
Accept Terms and Agreement
This is a critical step to the 48 hour installation.
Once the Teraverde team receives the Encompass credentials, we hook up your LOS to Coheus via API and Coheus begins to work on the data..
Getting Started..
At first you will notice all of your data integrated into the 40+ mortgage analytics screens. Having a clear view of your organization in a Smart App may be overwhelming at first…
A Coheus specialist is there to guide you through mortgage intelligence and the Executive Playbook.
Pick a Plan that Works for Your Business Model
Coheus delivers specific mortgage analytics over your entire lending business broken down into 4 main applications. The packages are designed to empower mortgage executives with actionable data.  
What will I receive when I purchase Coheus?
You'll receive cloud based Coheus to access critical data, organized for executives, production managers, operations managers and secondary managers. It's a service, so no need to install anything on desktops, etc. And no need to hire administrator or other support personnel.
Can I perform Ad-Hoc Reporting?
Yes, Ad-Hoc reporting of key data fields is supported.
Is Coheus a Reporting System?
Coheus helps you make data informed decisions using data that is presented in the manner mortgage executives want to use the data. The associations that Coheus make are based with feedback from over 100 industry leading CEOs.
You manage with data insights to make data informed decisions. Coheus is designed to support fast data informed decision making and provides ad-hoc reporting.
Coheus is not intended as a 'report generator'. Rather, it provides information highlighted and presented in an intuitive way. Coheus is a playbook to speed decisions, profit and funding. Coheus provides actionable Profit Intelligence, not static reports.
How fast is data updated?
Data is extracted from your LOS system at regular intervals, usually every hour or half hour… so you are working with near real-time data directly from your LOS. Faster refresh is available as an option.
How does this help manage my pipeline?
Up to date LOS data is at your fingertips, associated and presented in a manner that provides for a Data Informed Decision-Making Process. You get actionable decision-making information at your fingertips. No need to wait days or weeks for information from your 'BI Team' for reports that often miss the mark.
What LOS systems are supported?
There is a direct integration with Encompass. Other LOS systems with APIs are also supported.
What happens when I first begin using Coheus?
The first thing most clients notice is data integrity issues. You'll see them up front, rather than finding out about them in QC, investor stipulations or non-purchase or repurchase. The biggest ROI from Coheus is finding and correcting the root cause of data integrity issues.
The next benefit is accelerating approvals, closing and investor purchase by working on loans that can be approved and funded quickly, and managing the remaining loans to a prompt decision and closing. You'll discover missing and erroneous data, and have the chance to quickly resolve the issues.
Do You Handle Upgrades?
We keep Coheus on a path of periodic upgrades, based on user community suggestions as well as our own internal research.
Teraverde Support & Updates
Teraverde works closely with clients from day one. We encourage clients to send us feedback, as we continue to improve Coheus. 
Teraverde has a team of Certified Mortgage Bankers, Encompass Administrators and Certified Encompass Developers.
Whether you need help adjusting Encompass to achieve your goals or help leveraging your data to increase profitability and productivity. You have a team ready to help you surpass your goals. 
Coheus Profit Intelligence
Improving data driven decision making— all while instantly gaining insight of the lender's overall business. Coheus transforms data and information into actionable intelligence. 
Coheus can associate data and provide actionable intelligence for better decision making to increase profits and to gain a competitive advantage in the marketplace.
SpeedPath
SpeedPath manages workflow, service levels and data change management for each individual lending task.
SpeedPath is configurable by the lender so speed to ROI and continued flexibility are built in.
Prioritize your pipeline to ensure your staff works on the right loans at the right time is critical! 
Instant lift in speeding up approvals, closing and selling loans.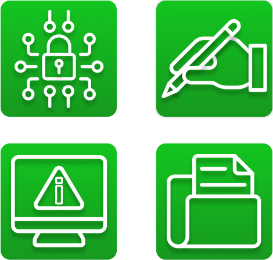 Encompass Product Suite
Supercharge Encompass and Your Staff – Add the Missing Pieces to Encompass and Leverage Your Staff for profitability.
Through years of working with Encompass clients, Teraverde has developed a suite of automated solutions to relieve the user from heavy workload and stress from underperforming solutions. By automating time-consuming and costly processes combined with the ability to quickly purchase and implement individual or multiple solutions, our suite of Encompass Integrations can start to simplify and streamline your process today.
The Digital Mortgage Store is Open!
Lending solutions on the demand. Purchase and install in 48 hours.
Encompass Implementation Services
Teraverde has worked through major challenges in the mortgage lending and banking industries. Our highly experienced staff is ready to help you get up and running quickly and seamlessly, assisting you in optimizing deployment, while leveraging all that Encompass has to offer, out of the gate.

Partnering to Deliver Data Insights and Profitability to Encompass Users
Through a strategic partnership, Encompass customers can count on a trusted guide to support them.
Contact Us Today!
For immediate help. Call 717-344-5521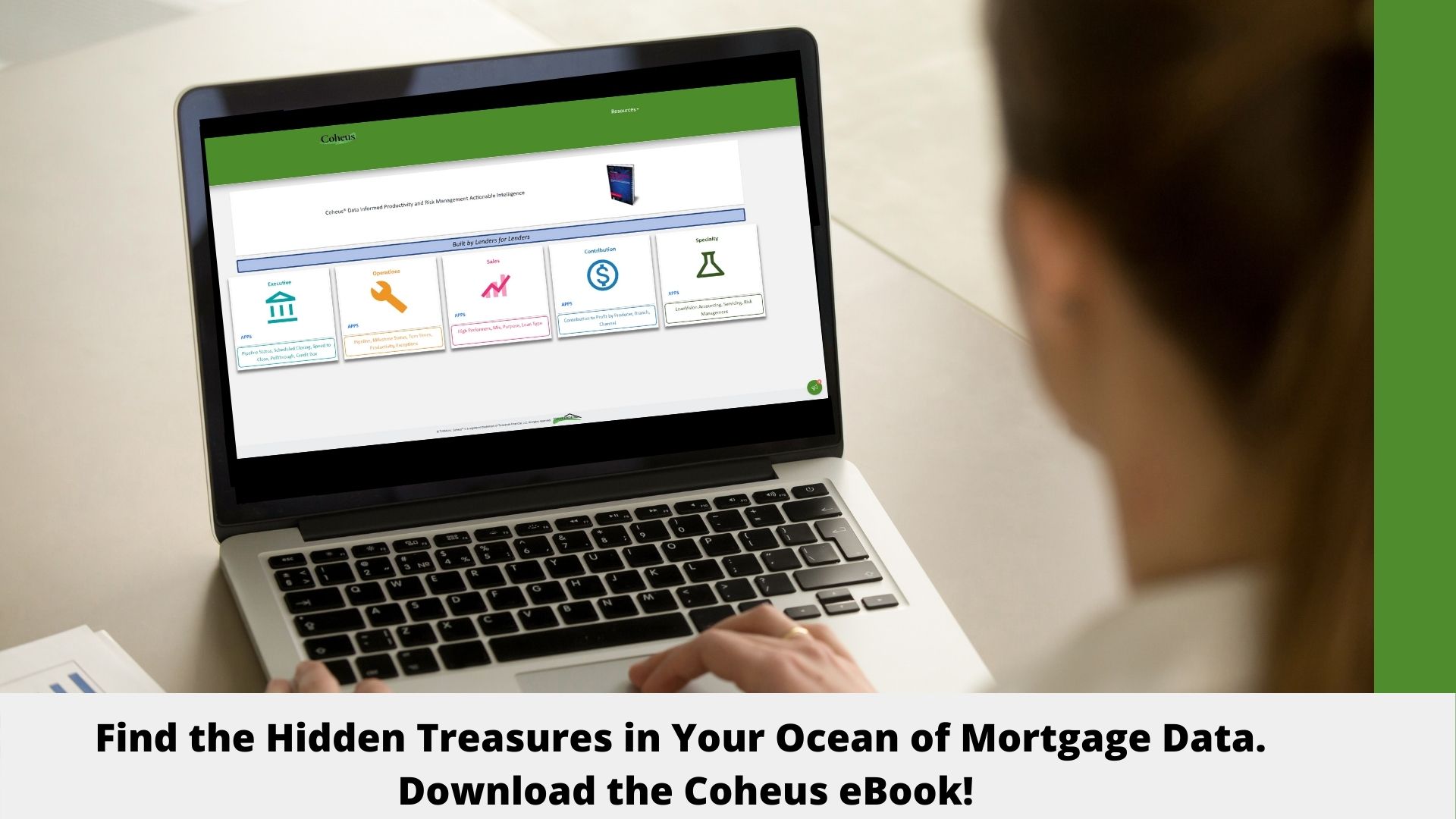 BEFORE YOU GO…
Find additional Profitability and Productivity opportunities in a lender's ocean of mortgage data. Take a closer look at Coheus in our informational packet.