Fully integrates Encompass

®

, mortgage BI, service level management in a simple solution.
Coheus is the Mortgage Business Intelligence For Mortgage Bankers
The Solution that helps you Work on the Business
Every Lender is Drowning in Oceans of Data… and are turning to solutions that transform the data but the solutions are providing limited and static information. 

We believe a Mortgage Banker should have a solution that helps easily find opportunities that generate more profit, increase efficiency, and improve productivity. Coheus is the solution that transforms real time data into actionable intelligence for mortgage executives.  
Mortgage Business Intelligence that usually takes months to build and configure
is now available in 48 hours..
Better Business & Data Intelligence
Domain knowledge embedded in the mortgage software application, Coheus captures, validates and transforms Loan Origination System data and accounting data into meaningful intelligence.
Speed to solution
Real time view of your loans production and your production metrics. Capture the data that a mortgage executive needs to enhance loan production. 
Encompass Administrator's Favorite Tool for Service Level Management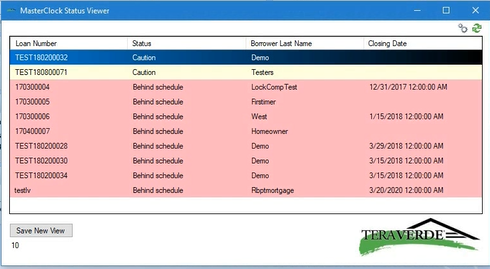 Master Clock, Task Management, Service Level Management and Data Change Management
SpeedPath

 is the 

task management and service level management element of Coheus OS

SpeedPath creates data that drives actionable intelligence from your pipeline, loans, and teams.
Automatically identify data changes in a loan and automatically tracks all the touches in a loan.
Lenders using SpeedPath results in:
The front-line team can self-manage tasks and service levels based on the lender customer experience standards.
  Help your team identify and proactively respond to any data changes in critical loan data fields.



Changes in critical data are color-coded for easy identification and recognition. 
Automatically gather service level data sets to monitor customer experience.
Create task and service level time sensitive datasets that bring productivity and insights from your LOS.
Request Demo Videos and Pricing or Schedule a Live Demo 
Access Critical Mortgage Data with Coheus, Anytime and Anywhere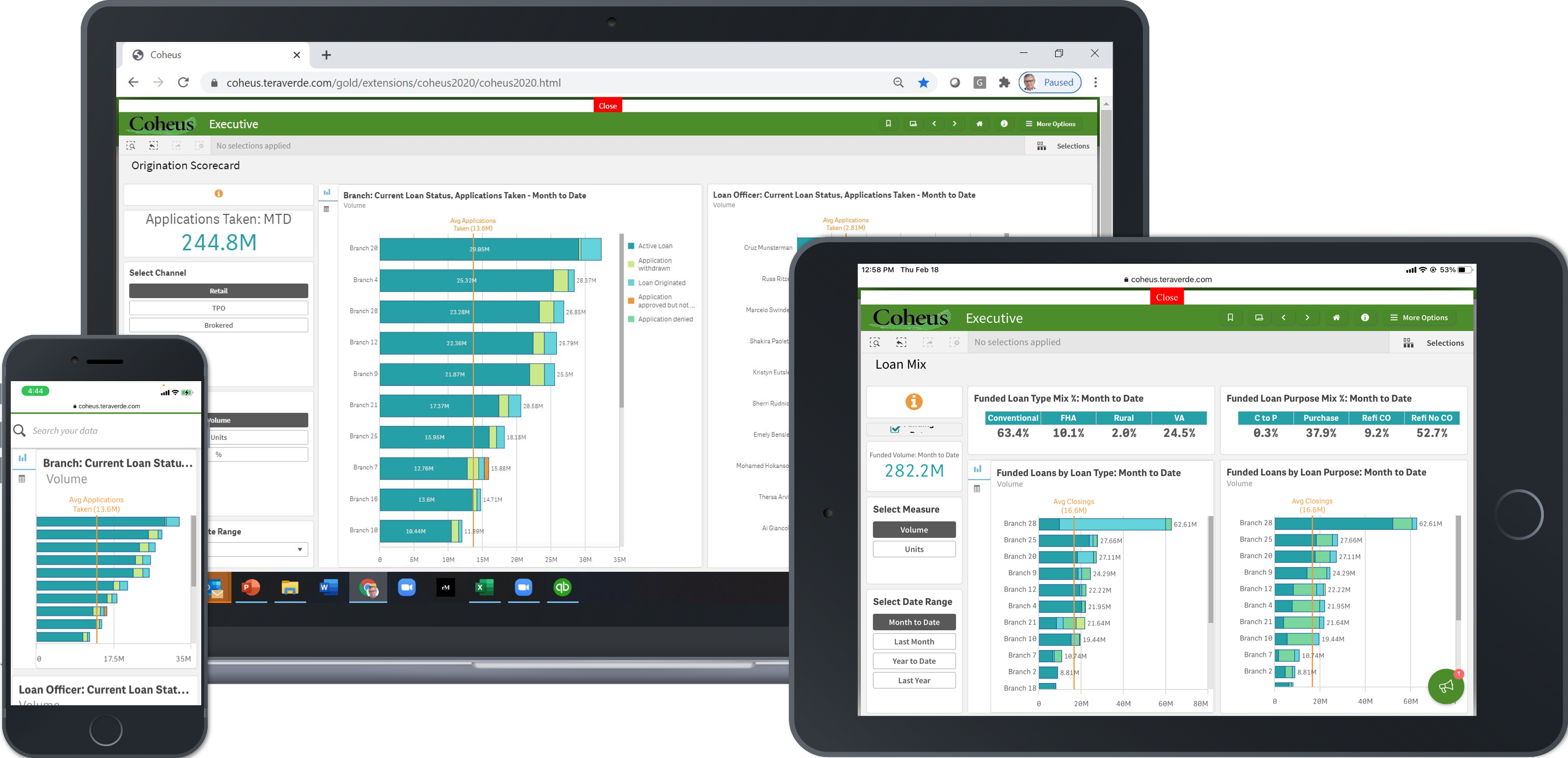 Coheus OS Includes:

Coheus Apps: Executive, Operations, Sales, Contribution

SpeedPath MasterClock 

Over 50+ interactive dashboards 

Executive Playbook – over 10 plays to start improving your lending business right away. 

Access to Executives with over 25 years of mortgage experience. 
"With Coheus I was able to get a visual diagrams of any data point in my LOS.
I was able to check on my phone and instantly get all the information I need."
"I was using another mortgage BI System to do all of the tracking and business reporting. My team hired a specialized admin that have spent a lot of time developing the reports and data I need. When I asked my team for a scorecard, they sent me a large excel file the week after,  I couldn't find the answer I was looking for." 
Coheus Helps Executives Thrive in the Mortgage Industry
We were working with the CEO of a client that wanted to improve their operational capacity and speed to close.  The client was using a BI tool, and try as we might, we couldn't adapt that product to provide the information the client needed to speed throughput, manage the performance of their employees, and speed to close.  After lots of work, dead ends, and attempted workarounds, we concluded there has to be a much better way.
After speaking with other CEO and C level executives, we learned that this was a common issue with BI tools.  The BI tools did not have the domain knowledge of mortgage CEOs built in.  And the technical design was inherently limited.  Ask something that wasn't already designed, and you either couldn't do it, or you needed to have a developer work on the special request.  And developers are technical experts, not mortgage experts, so their work often missed the nuances of the mortgage business.  And back to the drawing board ended up using more of their resources and long periods of development time
So we decided the way to create a solution that had domain knowledge that helps CEOs and C level executives lead and manage, and to have the agility to answer executives' need to dive into information was to invent it ourselves.  And thus Coheus was born.
We refined it by interviewing over 100 successful CEOs and incorporated their collective domain knowledge into Coheus.  How successful CEOs want to understand their business, and engineer it into Coheus.
How Can We Help?
Leave us a message to get started!

CEO
As CEO it's critical you know what's going on with your business at all times. This is the reason CEOs Love Coheus.
An executive is able to quickly review the status of each loan officer's pipeline, by milestone, with the associated credit box and turnaround time to evaluate LO and Branch productivity. Then easily review each LO's and AE's prior month activity, and the closed loan activity year to date.
Mortgage Bankers Optimizing Coheus:
Have the ability to identify and eliminate performance problems, waste, and revenue leakage is crucial, especially in today's challenging lending environment.

Unlock profitable data locked inside your LOS

Enhance decision making to gain competitive advantage

Instantly identify top producers and underperformers so that you can take swift action to maximize profitability
Mortgage Executives will benefit:
Ability to view your whole business from your desktop, tablet or phone on demand.

Easily forecast and manage your own reporting system.

Find profitable concentration and focus more on the areas that matter.

Find opportunities to increase profit and analyze opportunities to increase efficiency and reduce cost.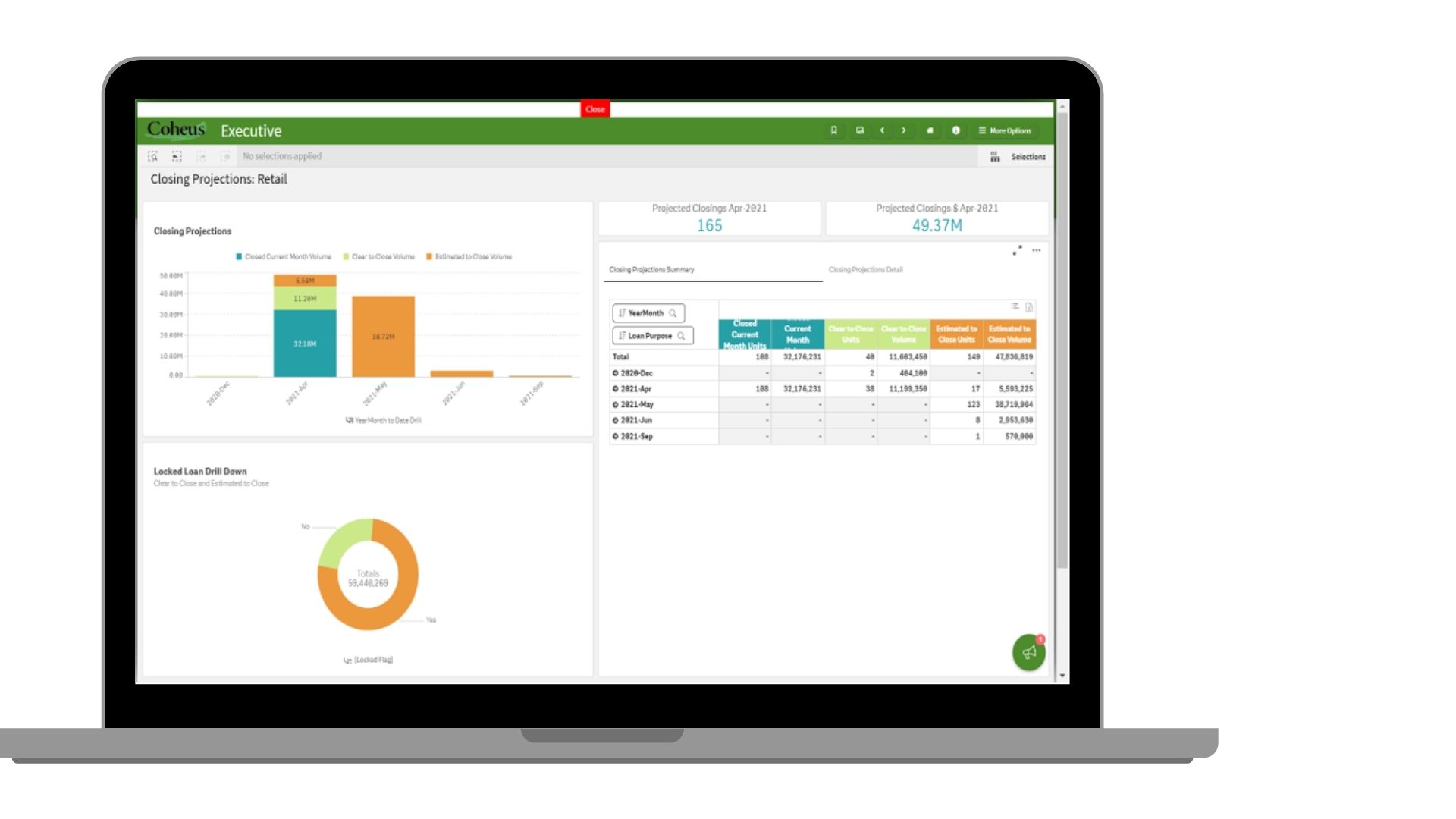 CFO
If you're a CFO you know it comes down to: What's the ROI and are we growing profits?
CFOs love Coheus Profit Intelligence for those two reasons. Coheus shows you where you can get the largest ROI and the areas where your team can focus to grow profits. Teraverde's expertise allows clients to get the strategy to execute some of the largest obstacles.

Coheus Applications allows you to review the profitability of each loan officer and account executive, by product, by month. Then you are able to extend your review to profitability by branch, and by region. Significant differences in profitability are instantly identified.
With the information that Coheus provides you can better understand your business and develop strategies to maximize profitability, identify unprofitable loan officers and products, and recommend which individuals and team need coaching for better performance.
All on a fact based approach. The result are better performance from most producers and self-selection from producers that wouldn't or couldn't meet the company profitability benchmarks.
Comprehensive Data Visualization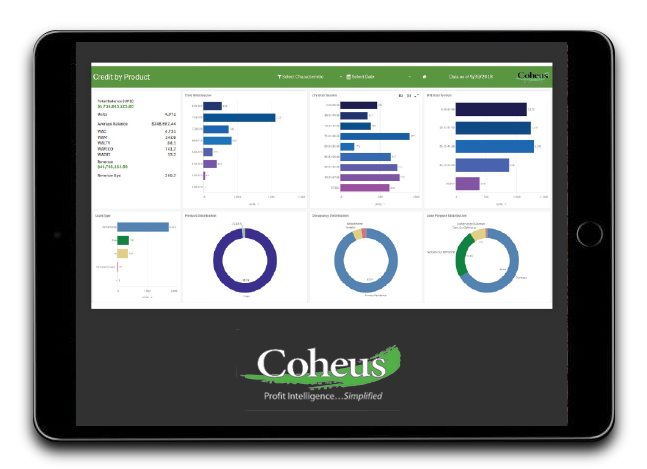 Coheus OS FAQs
What will I receive when I purchase Coheus OS?
You'll receive cloud based Coheus to access critical data, organized for executives, production managers, operations managers and secondary managers. It's a service, so no need to install anything on desktops, etc. And no need to hire administrator or other support personnel.
How does this help manage my pipeline?
Up to date LOS data is at your fingertips, associated and presented in a manner that provides for a Data Informed Decision-Making Process. You get actionable decision-making information at your fingertips. No need to wait days or weeks for information from your 'BI Team' for reports that often miss the mark.
Can I perform Ad-Hoc Reporting?
Yes, Ad-Hoc reporting of key data fields is supported.
Can I set Task Service Levels by Product Type, Purchase, Refinance or Ease of Approval?
Yes, this is where MasterClock excels. You determine the service levels. For instance, you can create a set of service levels for purchase loans that are faster than refi. And you can set a quick pace for 'slam dunk' loans by setting service level by LTV, DTI and FICO. SpeedPath lets you prioritize loans by purpose and 'degree of difficulty'.
What LOS systems are supported?
There is a direct integration with Encompass. Other LOS systems with APIs are also supported.
How fast is data updated?
Data is extracted from your LOS system at regular intervals, usually every hour or half hour… so you are working with near real-time data directly from your LOS. Faster refresh is available as an option.
What does ready to go in 48 hours mean? 
We really mean you can have your data visualized in compartments in 48 hours. After signing the contract, our team sends you a request list and billing information. In 48 hours of receiving both the request list and installation payment, Coheus OS is installed and ready to use. 
Can we get help on installing Coheus OS?
Absolutely. As soon as the installation payment and agreements are executed, our team will get your data connected within days, and you can begin use. We'll provide assistance to get up and running quickly.
What happens when I first begin using Coheus OS?
The first thing most clients notice is data integrity issues. You'll see them up front, rather than finding out about them in QC, investor stipulations or non-purchase or repurchase. The biggest ROI from Coheus is finding and correcting the root cause of data integrity issues.
The next benefit is accelerating approvals, closing and investor purchase by working on loans that can be approved and funded quickly, and managing the remaining loans to a prompt decision and closing. You'll discover missing and erroneous data, and have the chance to quickly resolve the issues.
Is Coheus a Reporting System?
Coheus helps you make data informed decisions using data that is presented in the manner mortgage executives want to use the data. The associations that Coheus make are based with feedback from over 100 industry leading CEOs. You manage with data insights to make data informed decisions. Coheus is designed to support fast data informed decision making and provides ad-hoc reporting. Coheus is not intended as a 'report generator'. Rather, it provides information highlighted and presented in an intuitive way. Coheus is a playbook to speed decisions, profit and fundings. Coheus provides actionable Profit Intelligence, not static reports.
Do You Handle Upgrades?
We keep Coheus on a path of periodic upgrades, based on user community suggestions as well as our own internal research.
Can I export data I see in Coheus OS?
Yes, as a CSV file, PDF etc.