SpeedPath
Prioritize your pipeline to ensure your staff works on the right loans at the right time. 
Instant lift in speeding up mortgage approvals, closing and selling loans.
Designed for Encompass Users to see every loan they are responsible for on a floating pipeline status view, with every key task monitored by SpeedPath.
Integrated and ready to go in your Encompass system in minutes!
More Accurate Data. Reduce Errors. Overall Faster Turn Times Guaranteed. 
Track every milestone in your pipeline down to the minute. Ensure Purchase loans aren't lost in the pipeline

Help your team identify and proactively respond to any data changes in critical loan data fields.
The front-line team can self-manage tasks and service levels based on the lender customer experience standards. You set the service levels and priorities, SpeedPath enforces the rest.


Create task and service level time sensitive datasets that bring productivity and insights from your LOS. 
SpeedPath Instant Uplift for Encompass Users: 

A client closing about $3 billion in loans per year needed a way to close loans faster and more efficiently.
Using SpeedPath MasterClock, the lender:
Reduced application to close by 6 days resulting from improved business workflow and use of the MasterClock for task management to keep all tasks on target.

Reduced operational labor by about 11 hours per file, due to improved workflow and use of the MasterClock to ensure required documents were received on time. This reduced re-work, resubmissions and improved internal communications.

Reduced cure costs because business process and disclosure accuracy were improved, reducing the need for re-disclosure and reducing tolerance cure costs.

Most importantly, customer satisfaction increased and loan officer satisfaction increased due to improved communication, faster approvals and faster closings with the improved transparency of the business process. All for less than about $8.00 per loan.
Here's How it Works
SpeedPath MasterClock is seamlessly integrated and native to Encompass. Keep up with your staff and your pipeline all the way down to the minute.
MasterClock Pipeline Viewer
Immediately loads at Encompass login

Users can review all loan exceptions:

At risk of failing service levels (yellow: Caution)

Failed service levels (red: Behind Schedule)

Immediately see the task that is causing the exception

Click on a loan record to open for instant access to correct the exception(s).

Export results quickly to distribute and review.

Customize view with data relevant to the individual
MasterClock Task Viewer
Let's users:
Identify what tasks need corrective action

Confirm tasks have been completed within Company service levels

Validate the workflow being utilized

Create as many workflows as you need!

You create the task list with the workflow and MasterClock dynamically updates based on the loan data

Task Viewer confirms that the loan can be completed on time – provides early warning if there are issues that prevent timely completion
MasterClock System Updater
Separate application that ensures every task's Expected Date and Status are maintained, even when users aren't opening loans. Hosted by you so you are in control of your service levels.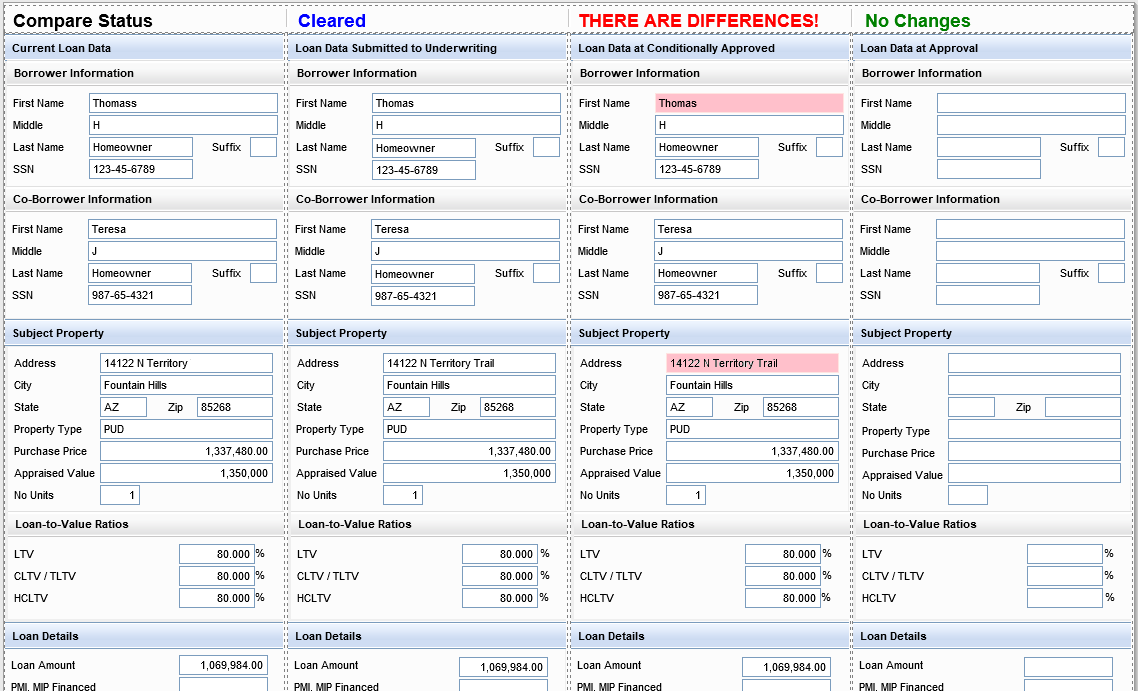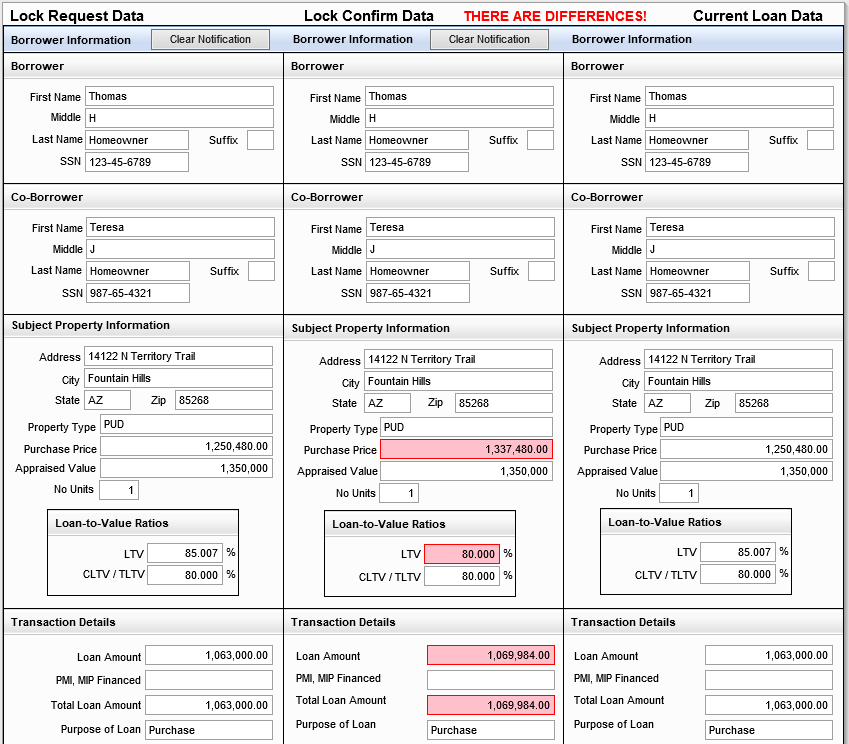 Immediately review all data changes made to a loan.

Users must confirm they have reviewed an accept the new data.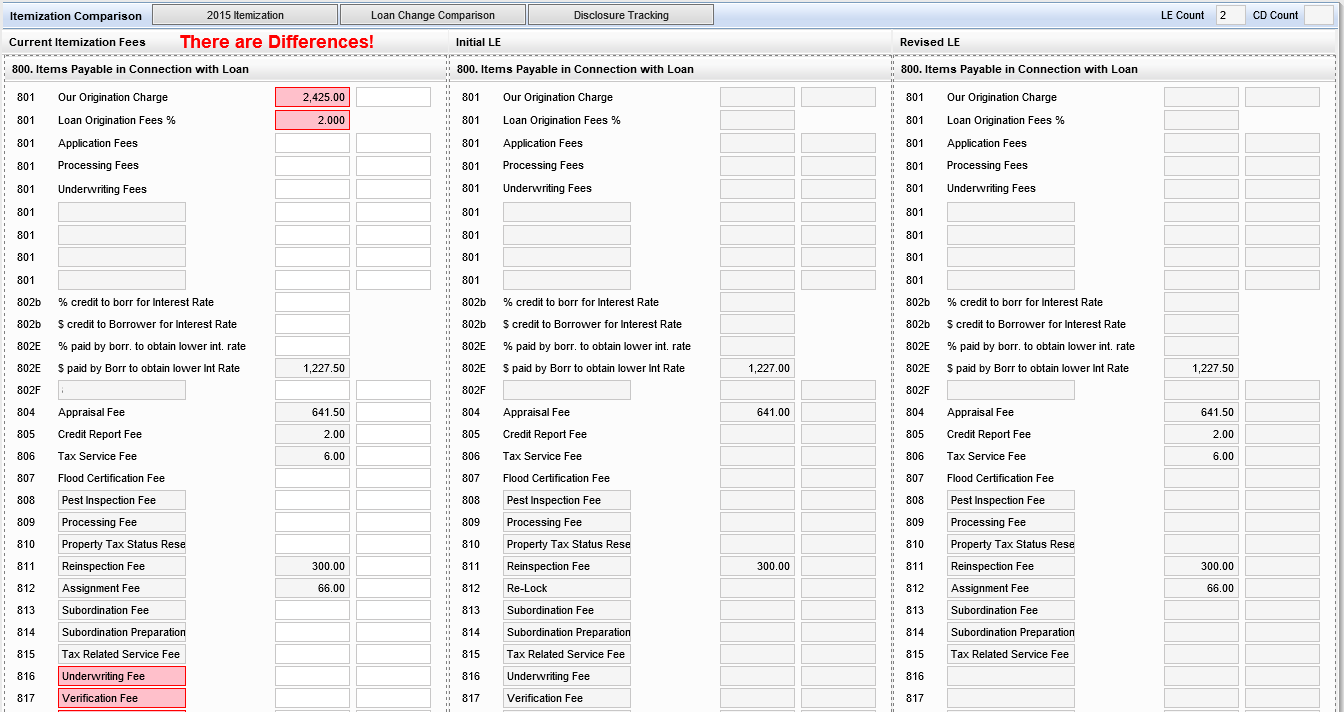 Learn more about SpeedPath

With A Cost of Only $5 Per Loan You Will Quickly Realize a Significant ROI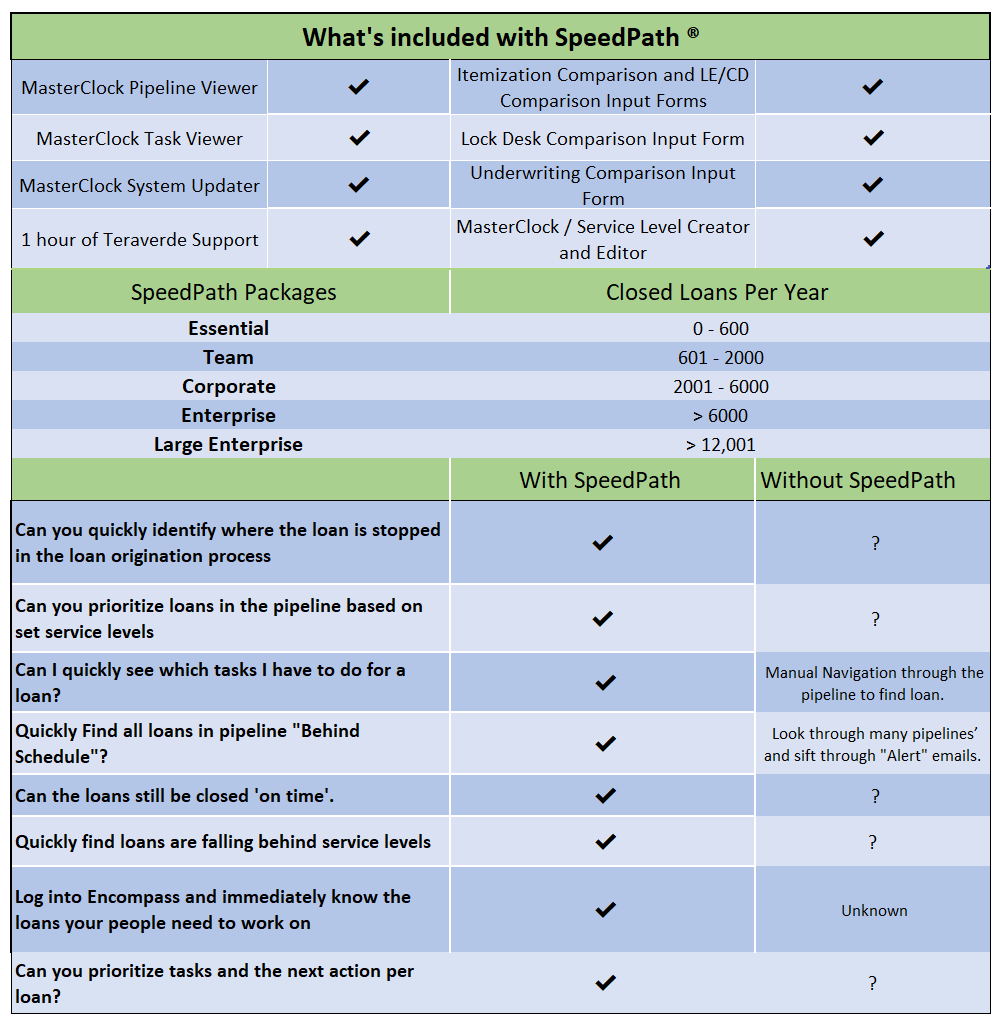 How does this help manage my pipeline?
The SpeedPath provides your workers the tasks that need to get done first to maintain service levels. Your team no longer needs to look for what to do on a loan, they are provided the tasks as soon as they long into Encompass.
Can we get help on installing SpeedPath?
Absolutely. With your download link, you will also find the Administrator's Guide that provides the necessary steps to complete your configuration of the SpeedPath. In the event you need additional assistance, provides an hour of implementation assistance is included in your Installation Fee.
Is There Documentation for My Encompass Administrator?
Yes, an Administrator's Guide is included with your download link.
What will I receive when I purchase SpeedPath?
Upon payment of the installation fee and 1st month's subscription, you will receive a link (to the email that is supplied at time of payment) to download SpeedPath. The download will include the SpeedPath MasterClock Task Viewer Encompass input form package, MasterClock Pipeline Viewer, SpeedPath MasterClock System Updater, Itemization Comparison and LE/CD Comparison input forms, Lock Desk Comparison input form, Underwriting input form, MasterClock/ Service Level Creator and Editor.
Does the SpeedPath fit into my existing Workflow?
SpeedPath manages specific tasks that are important to service level achievement. When a user logs in to Encompass, they are presented with all tasks in their assigned loans that are at risk of becoming behind schedule (yellow: Caution) or are late (red: Behind Schedule).
How long is the SpeedPath Installation?
SpeedPath installation is done in a matter of minutes. It comes delivered with workflows out of the box but can be additionally configured by your system admin team.
Can I set Task Service Levels by Product Type, Purchase, Refinance or Ease of Approval?
Yes, this is where SpeedPath MasterClock excels. You determine the service levels. For instance, you can create a set of service levels for purchase loans that are faster than refi. And you can set a quick pace for 'slam dunk' loans by setting service level by LTV, DTI and FICO. SpeedPath lets you prioritize loans by purpose and 'degree of difficulty'.The next benefit is accelerating approvals, closing and investor purchase by working on loans that can be approved and funded quickly, and managing the remaining loans to a prompt decision and closing. You'll discover missing and erroneous data, and have the chance to quickly resolve the issues.
Teraverde Support
Teraverde works closely with clients from day one. We encourage clients to send us feedback, as we continue to improve our products. 
Teraverde has a team of Certified Mortgage Bankers, Encompass Administrators and Certified Encompass Developers.