Disruption is an important topic for my new book. Here is an excerpt:
How is disruption manifesting in the mortgage world? Speaking on the topic, Brian Stoffers, Vice-Chairman of the Mortgage Bankers Association and CBRE stated that:
"We have enormous strategic decisions to make, which will shape our future. The impact of technology disruptors and the financial implications they have on our decisions is incredible…Technology helps us be more efficient and effective with our very limited time in a fast-paced business World.
"Homebuyers want more efficient, instant home buying information, but they still want in-person assistance as well. Technology has given homebuyers the ability to be as self-sufficient as they would like. They can even bypass traditional realtors using sites like Zillow and Redfin."
Rocket Mortgage "completely changed the mortgage lending landscape forever by appealing to consumers' appetite for online gratification and turbocharged the desire for every other lender to better serve their customers."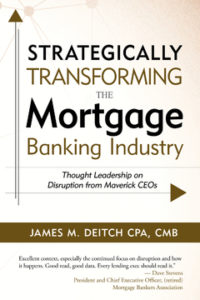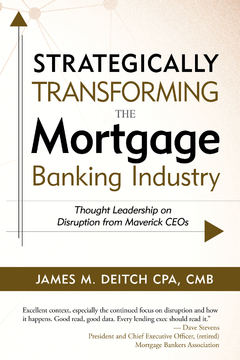 When researching for this book, I developed the following hypothesis about disruption from a consumer's standpoint:
Disruption occurs when a better solution becomes so obvious and so easy that it becomes ubiquitous.
Amazon is so easy that it had been adopted by all age groups. It's not a technology, it's a tool of everyday life. It's ubiquitous. Here's the proof:
I purchased a home in Florida and virtually all the things needed to equip the new home were available and delivered to my door by Amazon. It never occurred to me to physically 'go shopping' in Naples for kitchen appliances, dishes, glasses, a wine fridge, linens, etc.
Disruption continued as I became a 'wire cutter.' No need for a landline in the Florida house. Why pay for something so expensive and limited when a cell phone works so much better and there is no such thing as 'long distance toll charges 'or 'local long-distance toll charges?' No need for cable TV, too, as Fubo works anywhere, anytime and costs less than cable.
With this in mind, consider this corollary to my hypothesis from a business standpoint:
Your business model works until it doesn't.