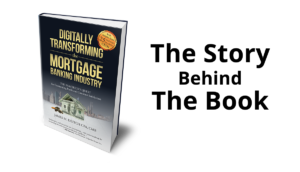 The 2017 Mortgage Bankers Association Chairman's Conference included a session titled FinTech and the Future. Jonathan Corr, CEO of Ellie Mae, Bill Emerson of Quicken, Nima Ghamsari of Blend and I were the panelists. As we discussed FinTech and the cost to produce a loan in 2017, I noted it cost more in operational labor to manufacture a loan file than General Motors' labor costs to manufacture a car. Jonathan Corr said, "Someone should write a book on this topic."
The result, "Digitally Transforming the Mortgage Banking Industry" is a best-selling new book that debuted as #1 on Amazon's Hot New Releases List on February 28 and remains as the #1 New Release on Amazon in its category.
For this book, I interviewed twenty-five high performing "maverick" CEOs who can see colors and opportunities invisible to most people. The book looks at the mortgage banking industry and its challenges though many different lenses that refract what most people see as a simple beam of white light into a wide range of wavelengths. In addition to a comprehensive conceptual framework, the book includes some of the fascinating exemplar stories I discovered of the good and the . . . not-so-good in FinTech.
Building on the MBA Chairman's Conference ideas, the book goes far beyond the typical mortgage industry's one-size-fits-all "best practice" advice. It provides a clear explanation of the necessary cultural and technological transformations to create high customer satisfaction, improved employee retention, lower costs and increased profit in varying business models.
The 25 CEO Mavericks interviewed include Bill Emerson (Quicken), Dave Stevens (MBA), Deb Still (Pulte Mortgage), Stan Middleman (Freedom), Nima Ghamsari (Blend,) Jonathan Corr (Ellie Mae) and twenty additional accomplished execs.
I am proud to share the thought leadership of these Maverick CEOs with the industry at large. All royalties are donated to MBA Opens Doors Foundation, which makes rent and mortgage payments for families with seriously ill children.

– Jim Deitch
Author of Digitally Transforming the Mortgage Banking Industry
---
For more details on Jim's book and how to get a copy, click here.